Image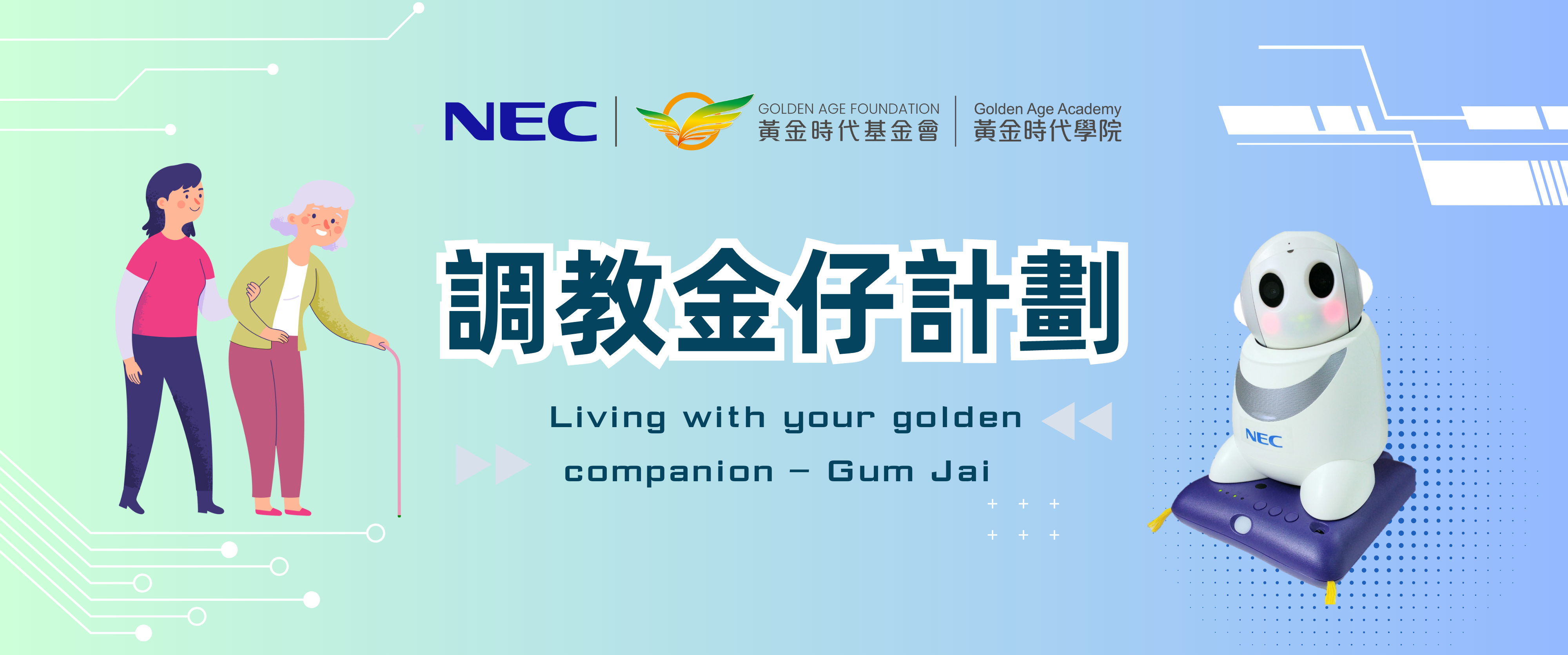 Seeking Golden Buddies to
Adopt Our

Smart Ageing Robot "Gum Jai"

!
Launching soon, the Living with your golden companion – Gum Jai aims to the social life of elderly residents with dementia living in elderly care homes and daycare centres through our smart ageing robot "Gum Jai". The programme also aspires to help reduce the mental stress of caregivers and their patients while slowing down degenerative symptoms of dementia.
Through the programme, we are now recruiting 10 volunteering Golden Buddies to work alongside registered nurses and social workers and enhance the elderly's social needs by helping them learn to interact and "care" for Gum Jai. Our Golden Buddies will visit elderly daycare centres with Gum Jai and facilitate various cognitive training activities for the elderly through technology.
The six-month programme is sponsored by NEC Hong Kong Limited, benefitting 40 elderly participants and their families.
Join us and help the elderly make new friends through technology! 
Programme Period: July – December 2023 (6 months programme)
Service Location: Tseung Kwan O
Programme Content: 10 Golden Buddies will help elderly participants and their carers learn to use Gum Jai at home and visit elderly daycare centres with our smart ageing robot to serve elderly residents.
4 Volunteering Training Sessions (2 hours per session)
All volunteers will visit an elderly participant's home or daycare centre around once a week (weekdays).
Volunteering requirements:
Golden agers (individuals aged 45 and above)
Knowledgable about using smartphones and tablets
Interested in learning to use smart ageing robots
Willing to help teach the elderly, their carers and daycare centre staff about the usage of smart ageing robots
Received three doses of COVID-19 vaccinations and are in good health
Able to allocate sufficient time to "care for" Gum Jai
Apply Now! (Application is closed)
Please Note:
Volunteers are required to attend all training and services sessions.
During the programme period, photos and videos will be taken for documentation and promotional purposes. 
For enquiries, please contact us via one of the following methods: 
Tel: (852) 8102 1068
WhatsApp:(852) 93479564
Email: robinsham@goldenage.foundation