The Business Matching Session aims to support startups and social ventures that demonstrate practical, scalable and sustainable innovations, including IT solutions and gerontechnology, from different places in the Asia-Pacific and offer more choices to enhance the quality of life in an ageing society. This is an effective platform to create business opportunities for startups that promote smart ageing.
Eligibility
Organisations or companies that offer readily available solutions, including IT solutions, Gerontechnology, products or services that enhance the quality of elderly life and encourage cross-generational development
Track record of working with at least 1 corporate / organization before
Important Dates
Application period: 22 June – 26 July 2021
Booth logistic announcement: 30 July 2021
Presentation day: 28 / 29 August 2021
Business matching sessions: 28 August – 15 September
Run Down
Image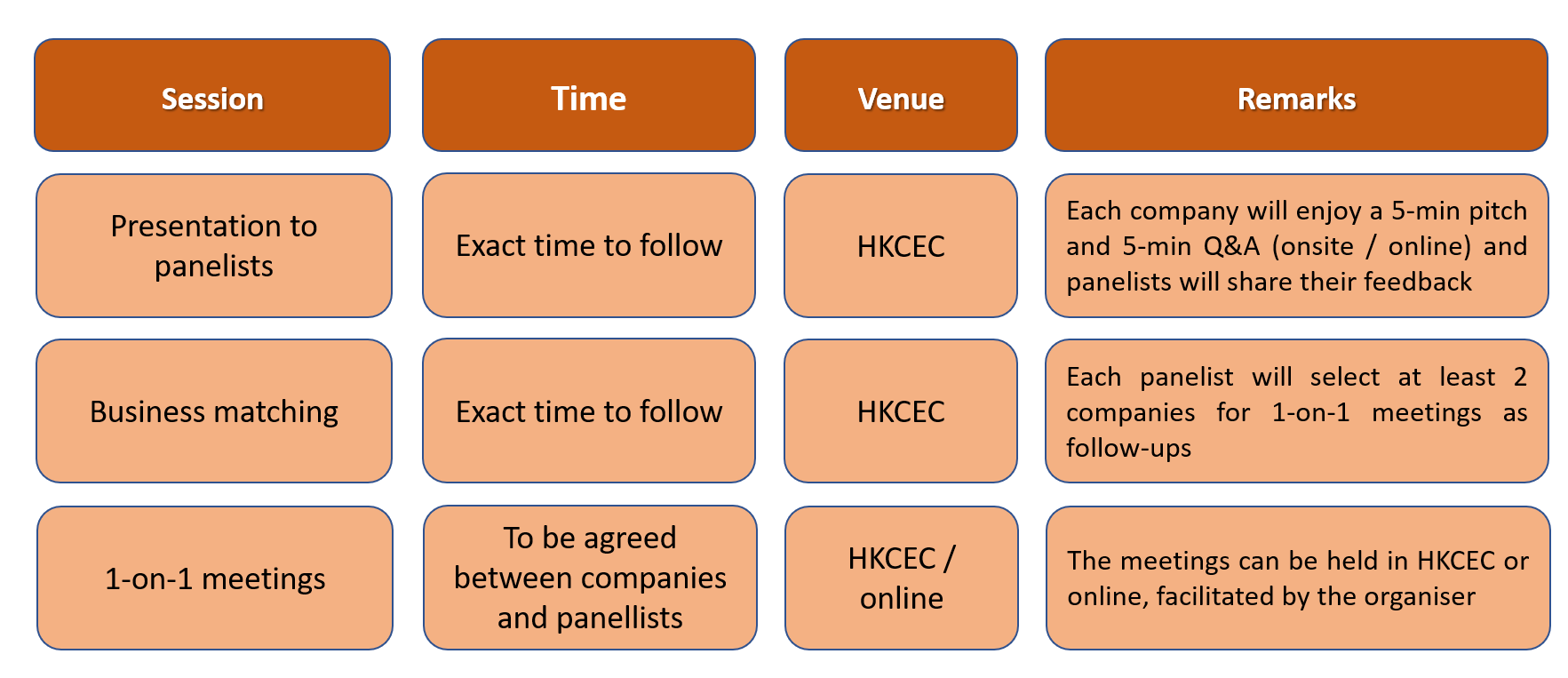 Panellists
Mr. Paul Pong (Managing Director, Pegasus Fund Managers)
Mr. Mingles Tsoi (CXO, ParticleX)
Ms. Lai Chong Au (CEO, Delta Asia Securities Limited)
Mr. Jeff Ng (Transcend Capital Partners, Co-founder)
Mr. Kenneth Chan (Chair, Elderly Care Association of HK)
Miss Stephanie Law (Managing Director, Culture Homes)
Miss Grace Chan (Business Director, HKCSS)
Why participate?
Opportunity to pitch potential clients and key decision-makers directly, which increases matching success
Exceptional exposure not only to local clients or investors, but important overseas stakeholders in the region, supporting you to identify new opportunities and expand into new markets
Networking opportunities with public and private leaders, investors as well as collaborators
Exhibitors are eligible to become Corporate Members of Golden Age Foundation and attend year-round membership events.
Enquiries
For enquiries, please contact Ms. Chloe Lam at chloe.lam@goldenage.foundation or gaes2021@goldenage.foundation.
Application Period:
From now to 26 July 2021