As the ageing population in the Asia Pacific region continues to rise, unprecedented economic and social opportunities have also grown steadily across the board. Organised by Golden Age Foundation, the first Smart Ageing Award aims to celebrate innovative and outstanding services, products and programmes that enhance the quality of elderly life and embrace independent and dignified ageing. The award also inspires organisations and entrepreneurs to develop innovative ideas and initiatives to help reshape the future of smart ageing.
Applications will be reviewed according to the level of innovation, scalability and sustainability, evidence of success, collaboration and the overall user experience.
Award Categories: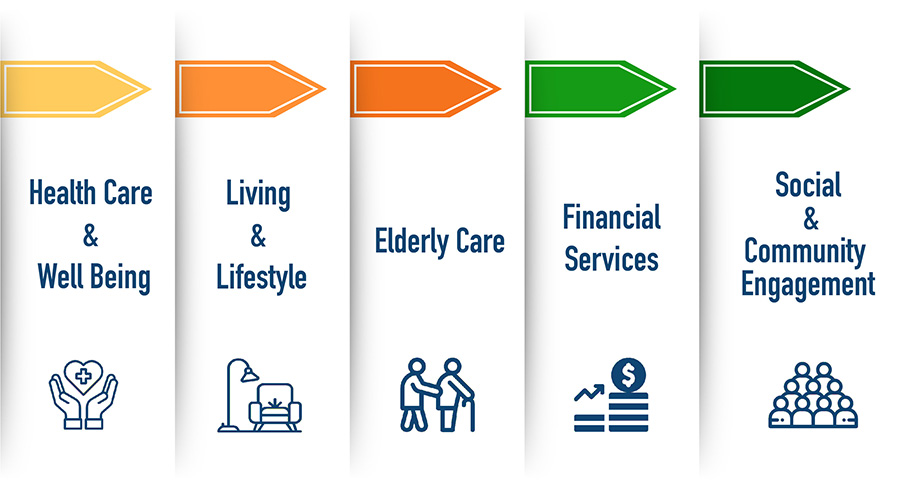 Six irresistible reasons to join the Smart Ageing Award:
Be recognised as leading practitioners that influence positive changes in the ageing industry
Opportunity to participate in an exclusive roundtable discussion facilitated by InvestHK with targeted promotions to overseas audiences. Awardees can also garner exceptional exposure beyond the award.
Networking opportunities with public and private leaders, investors and collaborators
Media interviews and coverage
Free promotional opportunities among the golden age communities
Receive award certificate
Judging Panel
Image

Head Judge
Dr. Lam Ching Choi, SBS, BBS, JP
    Chairman, Elderly Commission
    Member, Executive Council, HKSAR
Judges
Mr. Gordon Leung, JP
    Director, Social Welfare Department
Mr. Mohamed D. Butt, MH
    Executive Director, Hong Kong Productivity Council
Mr. Lester Huang, SBS, JP, MAoF
    Chairman, Investor and Financial Education Council
Dr. Wingco Lo, JP
    Executive Vice President, The Chinese Manufacturers' Association of Hong Kong
Ms. Irene So
    Executive Director, ZeShan Foundation
Mr. Peter Yan, JP
    Chief Executive Officer, Hong Kong Cyberport Management Company Limited
Smart Ageing Award schedule
Image

Application:
An entity should apply through the Online application system first and submit application details after receiving a confirmation letter by email.
Application Fee:
Commercial corporations: HKD$10,000
NGOs, social enterprises and educational institutes: HKD$2,000*
(Smart Ageing Award application fees sponsorship programme)
Application Submission:
Submit a completed application form
Submit a set of information about the nominated products/services/programmes
(Optional) Submit a video (max 3mins) to introduce your organisation or nominated products/services/programmes
Application Period:
Registration has been closed
Enquiries:
Should you encounter any difficulty during the application, please contact Secretariat via email: gaes2021@goldenage.foundation